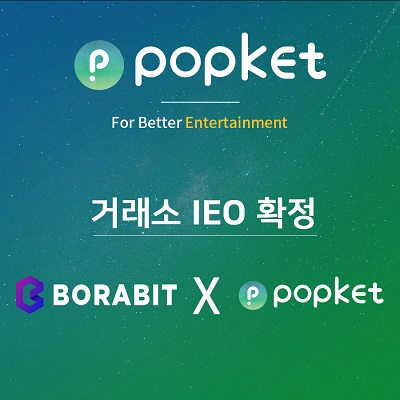 Popket coin (POPKET), a block-chain-based global concert ticket advance platform, will be on sale at Purple Exchange for five days from August 2 to August 6. The Borlot ISE is an exchange that uses a variety of content including ILO, IEO, transaction bots, backtesting, boracatch, financial transaction support
Popket coin (POPKET) is the main revenue base of Korean Wave, K-POP expansion, sound source, VOD, concert, performance, and Stargoods. It is based on a block chain based on its own mainnet, reliability and stability, direct dealings without brokers It is a platform that records transaction records, stores all information, and has irreversible characteristics that can not change information.
The POPKET platform can streamline complicated taxation problems with the companies involved in concert-related transactions, and make it possible to buy tickets for the performances at a low price on the spot by POPKET. It can alleviate global ticket sales competition.
Earlier this year, POPKET hosted a fan meeting at MOMO LAND in Manila, Philippines, a popular female idol group, and held a BEAST fan meeting in the Philippines in the spring of last year. My dream of PyeongChang Paralympic is performed, and it is planned and held steadily.
An official of POPKET said, "We expect K-POP and Korean Wave to spread widely through various events both at home and abroad, and to increase the value of POPKET coin."
A total of 10 days of 2019 PAMF (Poppet Asia Music Festival) will be held in Incheon Marina Plaza from August 8th to 17th. You can purchase PAMF tickets with POPKET coins (POPKET), and you can buy them at a lower price than other ticket sales websites when you purchase with a pop-up coin. Various festive lineups including idol, trot singer, rapper, dance team, indie band are prepared for each event at this festival
Beyond Asia, the Korean Wave and K-POP culture have been recognized as a global culture in the past few years. K-POP and Hallyu are loved all over the world so that there are idols who continue to enter the overseas stage rather than the domestic stage. POPKET is a highly related platform for Korean Wave and K-POP. It will be a platform to grow simultaneously with the global expansion of Korean Wave and K-POP.